Teeth Whitening in West Austin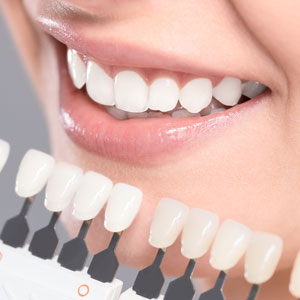 Many people avoid smiling in group photos or shun selfies due to tarnished teeth. A confident, gleaming bright smile is achievable with teeth whitening solutions at Carr & Smith Dental.
The practice offers laser whitening that gets excellent results. This type of whitening is ideal for those who want to achieve a brighter smile quickly before an important event, versus spending time whitening their smile at home over a two-week period.
To be a candidate for whitening, the front teeth must be free of existing restorations and a patient must have good oral health with no current gum disease or decay.
NEW PATIENTS

Patients should allow up to two hours for their whitening treatment. During the appointment, there will be several 15-minute intervals of laser whitening. How many depends on how bright they want their smile to appear. A barrier will be placed on the gums, then the solution will be applied to the teeth. The UV light will be used to brighten the teeth.
During the appointment, some patients may experience temporary sensitivity, but that will subside. Any staining a patient gets from foods or drinks that they may have can be removed when they come in to get their teeth cleaned. Patients will be given take-home bleach to touch up at home.

Teeth Whitening West Austin, Northwest Hills 78731 TX | (512) 345-0399