Meet Dr. Bryan Smith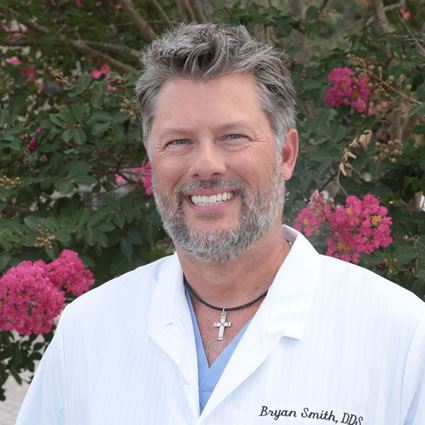 Dr. Smith was born and raised in Texas and has been practicing family dentistry since 2003. Growing up in Amarillo, he first developed an interest in dentistry through close family friends at his church. His mentor helped guide him into dental school and the rest is history!
Education and Training
Before dental school, Dr. Smith received a degree in biology and biochemistry and worked for four years as a dental assistant. He graduated from Baylor College of Dentistry in Dallas in 2003. During dental school, he completed cases at Parkland Hospital, as well as internships with the graduate department.
Since college, Dr. Smith has gone on to take accelerated professional training courses through organizations such as the prestigious Las Vegas Institute (LVI). He is also a member of the ADA and Capital Area Dental Society.
His Main Goal for His Patients
As a dental provider, Dr. Smith wants people to be able to smile with confidence and without pain. His passion for friendly and honest care can help put nearly anyone at ease, even if they've experienced dental anxiety in the past.
EXPLORE OUR SERVICES
Have a Question? He's Happy to Help!
Anyone who has questions about a specific restoration, tooth or type of treatment is encouraged to ask. Dr. Smith makes it a point to take plenty of time explaining things and keeping lines of communication open. In fact, he can often be found having conversations with patients over the phone if they have additional questions about their smile's needs.
Outside of the Office
Dr. Smith and his wife Megan married in 2005 and have two children, a son and a daughter. When they aren't busy shuttling their kids between sporting activities, Dr. Smith enjoys spending time outdoors doing things like hunting, fly fishing, and snow skiing.
Reserve an Appointment Today
Experience Dr. Smith's different approach to care. Contact the practice now to schedule an appointment.

Dr. Bryan Smith | (512) 345-0399