Dental Implants in West Austin
Carr & Smith Dental is proud to offer long-lasting dental implants to give people the confident smile they deserve.
What Is It?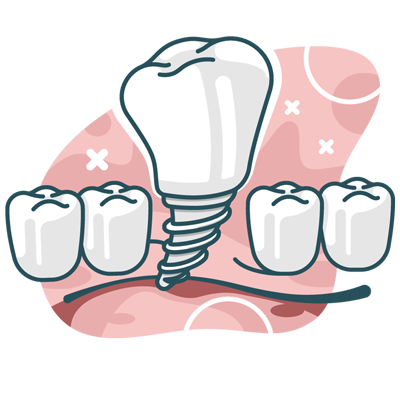 A dental implant is a way to replace a missing tooth.
Who's a Good Candidate?
If someone experienced trauma and needed a tooth removed, they might be great candidates for implants. Other patients might have a congenitally missing tooth that they want to replace.
To be a candidate for an implant, a person needs healthy teeth and gums and should be a non-smoker (or stop smoking).
NEW PATIENTS

FAQs
Will a patient receive sedation first?
Yes.
Is there any recovery period afterward?
If there are no complications, the patient can return to work the next day. If a sinus lift is required, for example, there will be a recovery period.
What are the benefits over other procedures?
A dental implant is the closest replacement to having one's natural tooth back. Implants are natural-looking, long-lasting, and give people an improved ability to eat and chew.
If taken care of, how long do they typically last?
If the patient maintains proper home care and comes in for routine recommended professional cleanings and exams, their implant could last a lifetime.
Book a Consultation
Those wondering if they can benefit from dental implants can contact Carr & Smith Dental today to schedule a consultation.
CONTACT US

Dental Implants West Austin, Northwest Hills, 78731 TX | (512) 345-0399