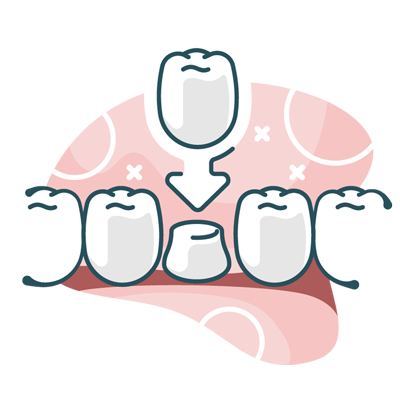 Dental Crowns
in West Austin
Those who have a tooth with a fracture or substantial filling, or one that is damaged or has had a root canal, can benefit from a crown, which is a cap that surrounds the tooth.
Crowns are handcrafted in a laboratory and made from different types of materials. These restorations are made to match a patient's smile perfectly in color, tooth shape, and bite. They'll also look, feel, and function exactly like a person's natural teeth. Crown materials include metal and ceramic. The type of material that is used depends on the particular situation.
NEW PATIENTS

A crown can achieve the following:
Preserves and protects a severely damaged tooth
Restores a tooth to its normal shape, size, and function
Improves chewing and eating
Getting a crown is a 90-minute procedure. Before beginning, the area will be numbed, and Dr. Smith will spend about 15 minutes preparing the tooth. The rest of the appointment time is spent getting an impression and making a temporary crown. When the permanent crown is ready it will be placed.
Book an Appointment
Those who want to find out how a crown could help restore their smile can contact Carr & Smith Dental to schedule an appointment.

Dental Crowns West Austin, Northwest Hills, 78731 TX | (512) 345-0399