Dental Bridges in West Austin
Bridging the Gap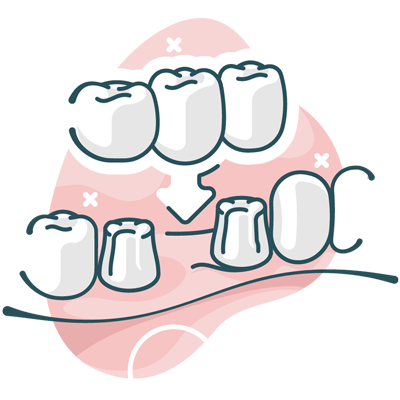 People who have a gap in their mouth due to a missing tooth may feel self-conscious because others can see it when they smile. Getting it fixed can be a tremendous confidence booster!
At Carr & Smith Dental, the perfect solution for those with missing teeth may be available in a fixed dental bridge. Patients can give the office a call and a team member will be happy to schedule an appointment for them. Dr. Smith can take a look at the space and recommend treatment options.
What is a Dental Bridge?
A dental bridge is made up of two crowns on either side of the missing tooth connected to an artificial tooth in the middle. These three "teeth" form the "bridge" that is matched to the color of a patient's teeth and then cemented into place to provide a permanent solution to that missing tooth dilemma!
NEW PATIENTS

What's the Procedure?
First, the dentist has to examine the patient's mouth and the areas around the missing tooth to determine whether a dental bridge is appropriate for their situation.
If a patient is a good candidate for a bridge, the teeth that are on either side of the missing tooth—the ones that will provide the "anchors" for the bridge—will be prepped for crowns.
An impression is taken so that the bridge will fit exactly into the space and blend perfectly with the patient's existing teeth.
At the next and final visit, the bridge is cemented into place and that's it! If patients take care to practice good oral hygiene and maintain their proper dental cleaning and examination schedule, their new bridge should last for a good many years, providing them with a winning smile and a gigantic confidence boost!
What's the Next Step?
Those who would like to explore dental bridges further can call the office to arrange a consultation or to receive more information.


Dental Bridges West Austin, Northwest Hills, 78731 TX | (512) 345-0399