Restorative Dentistry in West Austin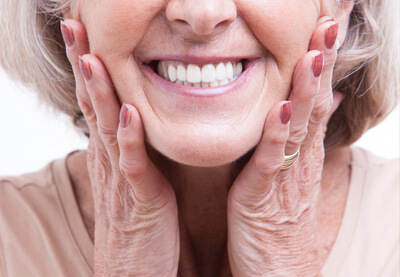 Tooth enamel is the hardest substance in the body—harder than bone. Some people think that should make it almost indestructible, but if it were, there wouldn't be any need for dentists.
While proper brushing, flossing and periodic cleanings and exams at Carr & Smith Dental contribute to a healthy smile, sometimes, even with the best dental care, people can experience tooth trouble that affects the way they look and feel about themselves. That's where restorative dentistry comes in.
NEW PATIENTS

What Is It?
Restorative dentistry provides the perfect "fix" for those missing and damaged teeth and prevents them from becoming or affecting adjacent teeth. Common restorative treatments include:
Veneers are very thin covers that are placed on the fronts of teeth to cover and correct gaps, stains, or chips.
A dental implant is used to replace a missing tooth.
Inlays and onlays correct teeth that are too damaged for a filling and not damaged enough to require a crown.
Crowns or "caps" fit over existing teeth to replace missing or damaged tooth structures.
A dental bridge is made up of two crowns on either side of the missing tooth connected to an artificial tooth.
Partial dentures replace several missing teeth and full dentures replace all of the teeth. These removable replacements look and feel natural.
Root canal therapy removes damaged tissue from the roots of a tooth below the gum line. Thanks to modern dentistry, there's far less pain associated with this procedure today.
Take That First Step
Restorative dentistry is designed to fix a patient's problem with their teeth, relieve pain, and pressure and provide them with a natural fit that replaces one, several, or all of their missing teeth. Dr. Smith is here to help those who think they may benefit from restorative dentistry.
Contact the office today to book an appointment.

Restorative Dentistry West Austin, Northwest Hills, 78731 TX | (512) 345-0399