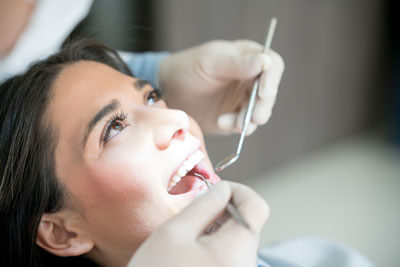 General Dentistry
in West Austin
It's said that the best place to start is at the very beginning, and with dentistry, it all begins with an initial comprehensive examination.
In a general dental visit, the team will go beyond simply cleaning and flossing a patient's teeth; the groundwork will be established for any future recommendations that can help improve their oral health.
NEW PATIENTS

What's Involved in a Comprehensive Exam?
At Carr & Smith Dental, a dental exam includes:
Providing a thorough oral cancer screening.
A series of diagnostic X-rays that provide a comprehensive view of the teeth and condition of the bones.
A periodontal examination, which includes a thorough screening and assessment of the gums—to check for any signs of periodontal (gum) disease.
A chewing surface exam, to check for bite problems (underbite, overbite, crossbite), worn teeth, and jaw problems, such as TMJ.
A tooth-by-tooth check to identify cavities, examine prior treatment and restorations and the current condition of each. Dr. Smith will locate any chipped, cracked, or missing teeth, or identify any work that needs to be performed such as protective sealants or fluoride treatments to strengthen the teeth.
If at any time during the exam the dentist discovers a condition or cavity that may need a filling, he'll develop a treatment plan right away.
Frequently Asked Questions
A typical cleaning and exam lasts roughly one hour.
Can someone who hasn't been to the practice in years make an appointment?
Absolutely. Here, a patient is never judged based on their dental history. In fact, the team believes the best time to get one's oral health in order is now!
Is a general dental visit painful?
Not at all. Keeping patients comfortable and relaxed at all times is a priority. If a patient is anxious about visiting the practice, Dr. Smith or a team member will be happy to talk them through the process. 
 Patients should feel free to ask about the office's sedation dentistry options for future visits.
Ready to Book Your Visit?
Every journey begins with a first step! Those who haven't seen a dentist in a while are invited to come in for a thorough examination. Have any questions or want to schedule an appointment? Please contact the office today.

General Dentistry West Austin, Northwest Hills, 78731 TX | (512) 345-0399