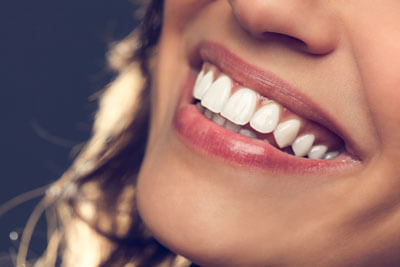 Cosmetic Dentistry
in West Austin
Patients who are ready to unlock a beautiful smile can be confident they've come to the right place. The Carr & Smith Dental dental professionals believe that the most beautiful smiles are created using custom cosmetic dentistry treatments.
The dedicated team is happy to provide a wide range of procedures to meet patients' dental health needs and craft the perfect smile for them.
Types of Treatments
Every smile is unique and that's what makes them beautiful. The practice is proud to offer a variety of cosmetic treatments, including:
Invisible braces for a straighter, more functional smile.
Teeth whitening for a brighter, whiter smile with advanced lightening gel.
Porcelain veneers to cover and correct gaps, stains, or chips.
Inlays and onlays to correct teeth that are too damaged for a filling and not damaged enough to require a crown.
Dental bonding, a simple procedure that adds tooth-colored material to your own tooth so it looks natural and blends in.
Dental contouring for a fast, effective, and pain-free way of correcting teeth that are crooked, jagged, too long, or overlapping.
Dental crowns or "caps" that fit over existing teeth to replace missing or damaged tooth structures, commonly used after root canal therapy.
Dental implants to replace a missing tooth. The implant may consist of a titanium screw that attaches itself to the jawbone and a crown that is secured to the post of the implant.
Smile makeovers, a custom care plan incorporating one or more cosmetic or restorative treatments to craft an incredible smile.
Frequently Asked Questions
People who are unhappy with their smile are likely a candidate for cosmetic dental care. During a consultation with
Dr. Smith
, patients will be able to discuss their smile goals and the dentist will come up with a plan to move forward. The patient can decide if they'd like to proceed; the team will be here waiting when the patient is ready.
How much does a cosmetic treatment cost?
Cosmetic treatments are completely custom to each patient. It's difficult to pinpoint a price until the dentist is able to see the patient in person and recommend a care plan for them. Finances will be discussed upfront with honesty. That's a promise!
Are cosmetic treatments painful?
Keeping each patient's pain level minimal and their comfort level maximum are top priorities. If necessary, treatment will include a local anesthetic so that patients won't feel anything during their visit.
Learn More Today
For patients seeking a way to enhance their smile, Dr. Smith will see what he can do to help. With all the cosmetic dentistry procedures available today, there is likely to be one that suits each patient's particular problem and  pocketbook.
CONTACT US

Cosmetic Dentistry West Austin, Northwest Hills, 78731 TX | (512) 345-0399